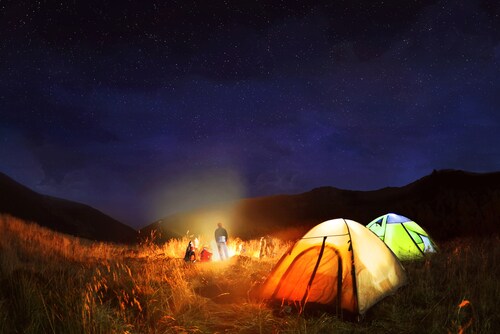 Summer has arrived and with it comes family vacations. Vacations don't have to be expensive and stressful. Camping is a fun thing to do with kids. Plus its easy to stay on a low budget and still have fun.
Before you go camping you may need a few essentials. Tent camping: I feel would be the best way to start and especially if this is your first time to camp with the kids, I would suggest camping close to the house. We have a state park that is like 20 minutes away from our home and this way if the kids get cranky, or the tent falls down or it rains the whole time, all you have to do is pack up and head to the house and maybe make a stop by a fast food joint, since dinner slid down the hill into the creek, with the help from the rain!
Make sure you take lanterns, it gets very dark out there. Also be sure to invest in a couple of good blow up mattresses to sleep on and make sure it's the type that comes with rechargeable blowers, this way you can keep it pumped up and not find yourself on a flat mattress in the morning. Take my advice this is not a good way to start your day at a campground by waking up stiff, sore and grumpy!
Try to prepare meals at home to take with you. Bring pillows, blankets, and some favorite kid books to read under the lantern in the tent at bedtime. Of course take first aid kids, bug spray and plenty of drinking water. The first camping trip may not make it into the books as the best vacation ever, but make sure it's fun, so the kids will want to go back again! Here is a simple list that may help you out on your first camping trip.
CAMPING ESSENTIAL CHECKLIST
Tent (poles, ground stakes, ground cloth, hammer for ground stakes)
Sleeping bag, blanket, pillow
Sleeping pad or mattress
Personal kit (soap, tooth brush, paste, wash cloth, towel)
Camp stove and fuel
Cook kit (pots, pans, spatula, large spoons, matches, plastic table cloth)
Mess kit (spoon, knife, bowl, cup, plate) OR paper plates and plastic utensils
Cleanup kit (plastic tub, sponge, soap, cleaning pads, paper towels, trash bags)
Cooler with ice and/or "blue ice"
Charcoal and starter fluid
Clothing for the season
Drinking water (in bottles)
First Aid kit
Insect repellent
Sunscreen (SPF 15 at least)
Firewood, fire starting materials, matches, newspapers
Oak Mountain State Park is a great place to go. It is nestled in a large cul-de-sac which borders Beaver Lake and surrounded by rolling hills topped with the long lived and majestic Longleaf Pines. It is a favorite spot for families to get away from the hustle and bustle of the modern world. The campground is open for camping year-round. Add to summer road trip plans an Alabama Adventure...go camping at an Alabama State Park!
Just remember to have fun, enjoy the outdoors, take plenty of water on the hikes and don't forget to bring the supplies for smores to cook by the fire! Most importantly, please remind everyone to not pick any green plants on the hike or around the campsite, the last thing you need would be poison oak or ivy!
Author Note
: Tammy is the owner and author of the Frugal Southern Mom Blog. Visit her on
Facebook
,
Pinterest
, and
Twitter
!